Last Updated: 18/01/2019
I've always been fascinated with the idea of having a bucket list but I've never actually got round to writing a physical list until now.
I did have a go at compiling a few ideas for my Pinterest board last year, which was fun, as it encouraged me to try new things and have different experiences, but this year, I wanted to continue adding to the list but also capture the experiences visually and in physical form.
So, I purchased a bucket list journal from my favourite independent small businesses high street website; Not On The High Street. Priced at just £23.00, which may seem a little expensive to some, it is definitely worth the extra pennies and a extremely good buy.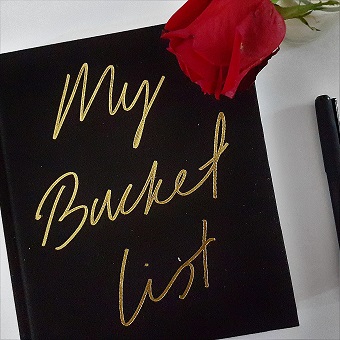 Not only is the journal beautifully bound in stylish black cloth, its packed with lots of inspiration! The journal includes a bucket list of 101 items and questions, motivational interviews with successful men and women, a space to insert pictures, inspirational quotes, beautiful photography from around the world, and a world map perfect to inspire anyone to start thinking about living their life to the absolute fullest and to follow all those hidden dreams.
So, without further ado, here's my list so far.....
TRAVEL
Travel to Venice, Italy | Go on Gondola Ride
Travel to Paris (again)
Travel solo
BLOGGING
Join a blog community
Post once per day for a whole month
Learn about Ghost and its functionality
LIFE
Get a tattoo
Open a shop on Etsy
Pleased to announce I opened "MadebyAnnieSanderson" in October 2017: https://www.etsy.com/uk/shop/madebyanniesanderson
SKILLS
Take a photography class
Learn how to play the guitar
Record a song
Learn how to ride a bicycle
Learn how to play chess
ADVENTURES/OUTDOORS
Visit Go Ape
Ride the London Eye
FITNESS/HEALTH
Attend the gym regularly
Attend a yoga class
Run/walk 10k
Run/walk Half Marathon
Reach my goal weight
I'll be updating this post as I cross items off of my list (and adding to it) and I hope to include a photograph or two on here to give you a little inspiration for your bucket list.
Do you have a bucket list?
Have you thought about creating one? What are some of the things on it?
I would love to hear from you via the comments section below.